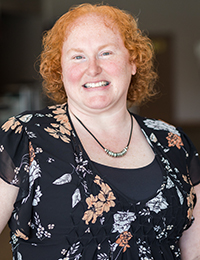 Being the Youth Pastor at South Bend First Church of the Nazarene has been such a wonderful experience. I love investing in the lives of students and helping them see God working in their lives as they learn and grow in Him. I grew up as a Pastor's kid and we moved a lot until my 9th grade year where we moved to Waukegan First Church of the Nazarene. It was there that I learned more about what it means to serve in the Church and was allowed to be the leader that God had created me to be.
I began teaching Junior Church when I was young enough to be a student in the class, and was first on the Church Board as the Nazarene Youth International President when I was 16. I love the Church and the people in it. Serving and loving the people of the Church has been something God has firmly placed in my heart throughout my life.
I accepted the Lord when I was young and remember praying the Sinner's Prayer many times and even had a call to ministry when I was in high school. When I graduated, I went my own way for a time and it was after my oldest son, Jonathan was 2 years old that I was at the Chicago Holiness Crusade in Mundelein, Illinois when God grabbed a hold of my heart completely and I surrendered my life to His will and the full sanctifying power of God's Holy Spirit.
I have served as a volunteer children and youth leader for over 25 years. When I met my husband, Shane, we began volunteering together to serve as Children's Church teachers. We continued to serve in various capacities over the years. At Waukegan First, I taught adult, youth, and children's Sunday school classes, led worship, directed the choir, coached youth and children's Bible quizzing, and even served on the Chicago Central District as the Celebrate Life Director and the District NYI President until moving to Indiana in 2016.
When we came to SBFN in 2016, I began the youth Bible quiz team here locally and began serving as the District Co-Director of Youth Bible Quizzing, which I still serve in to this day. In March of 2019, I met with the SBFN Church Board about finally accepting the call of God on my life that had begun so many years ago. At that time, I was granted my Local Minister's License and began classes at Nazarene Bible College to pursue ordination. In 2021, I was granted my District Minister's License. It was my joy for the first baptism to be my son, Benjamin and my first baby dedication to be my grandson, Lincoln.
I am thankful for the support of everyone at South Bend First as I continue my education and serve the students and families as God leads and provides. We are so glad that God led us to this Church home.
Here are a few things you may or may not know about me:
Favorite foods: Carne Asada, Steak Street Tacos, Pupusas, and Chicken Fajitas are my favorites, although I also love Italian food
Favorite Book: The Bible and anything Dr. Suess
Favorite movies: "Overcomer" "War Room" "Up" "The Incredibles"
Favorite band: For King & Country
Favorite hymns: "Great is Thy Faithfulness" and "How Great Thou Art"
Favorite scripture passage: Ephesians 2:10 "For we are God's handiwork, created in Christ Jesus to do good works, which God prepared in advance for us to do."
Favorite sports teams: St. Louis Cardinals
Pet Peeve: Children being disrespectful and of course, mouth sounds (ask my students J)
Hobbies: My favorite thing to do is to care for and serve others. I also enjoy reading, watching movies with my family, playing board games, and spending time with my family including my husband, Shane; sons, Jonathan, Samuel, and Benjamin; as well as my Daughter-in-law, Sarah, and my grandson, Lincoln and my parents, Jerry and Sue Harris.