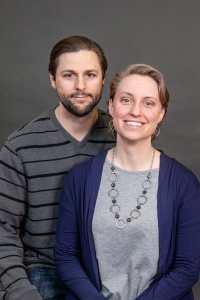 My name is Katie Preston and I am very far from where I grew up. Most of my life has been spent in Washington State, my husband Arin and I arrived in South Bend May 2017. We moved here for Arin to finish up his schooling.
I grew up in a rural area of Washington, growing up on the farm and in a small town gives a unique perspective. We lived on the same farm land that my dad grew up on. As a farm girl growing up I had a unique perspective, I learned to work hard and help others.
Growing up my parents and grandparents attended a Nazarene church in our area. I accepted Christ as my savior at 5 years old. I realized in high school that I needed to surrender all that I am and follow God wholeheartedly. In high school I also had the opportunity to go on a Mission Trip to Mexico to build houses for the poor. It was a life changing experience, at that time God showed me that I was supposed to be on the Mission Field.
After high school I went to college at Northwest Nazarene University in Idaho. It was there that I studied Nursing and Missions. On a Mission trip to Senegal Africa I received a call to preach the word of God. As we were serving there were three different occasions where I was asked to speak to a group of people. God has given me a call to help people understand God's call on their life, to help people put into action what they feel God leading them to do. I've been called to be an encourager for God's people, and I can hardly believe just how amazing that has been so far.
After college I met my wonderful husband Arin. We have been married for 4 years. While continuing to work as a Nurse and provide comfort and healing medically to people, God has opened the door for me to be here at South Bend First Church as one of the Pastors.
One of the things I'm looking forward to most is the opportunity to help bring healing and growth into our community both at South Bend First Church and hopefully to the surrounding community.
Some things about me:
Favorite food: Chinese and Mexican. I love spicy things!
Favorite TV show: Big Bang Theory/ Cartoons
Favorite inspirational movie: Faith Like Potatoes
Favorite scriptures:
Hebrews 11:1 (NIV)
"Now faith is confidence in what we hope for and assurance about what we do not see."
And Jeremiah 29:11 (NIV) "'For I know the plans I have for you,' declares the LORD, 'plans to prosper you and not to harm you, plans to give you hope and a future.'"
Hobbies: Spending time with my husband Arin, watching movies, playing with our two dogs and cat. Love all animals basically. Love hiking or walking. Enjoy the beauty of nature. Enjoy playing soccer.