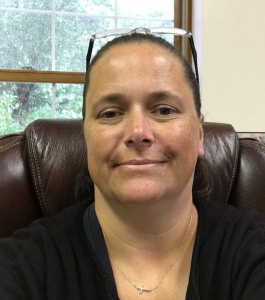 I grew up mainly in a single parent home with my mom and 3 other siblings (2 brothers and a sister) and really no Christian background to speak of.
My mom was an amazing mom. She went through a lot in her young life and was still able to come out of it all and still be the most amazing mom ever!! Everything she did she did for her 4 kids.
When I was a preteen my mom began dating Pete Thompson, he was a member here at SBFN, and that's how it all started. Shortly after dating they got married and we began our new journey as a BIG family. Going to church on a weekly basis, I became curious about the possibilities of Christianity.
I decided to try getting involved with our youth group, not realizing what a blessing that would be for me! The Youth leaders at the time were Terry & Holly Minix. What amazing role models they were then and still are to this day for me and my family. Through their faith, and the faith of my parents, on April 22, 1984 I made the commitment to live my life for Christ. I don't remember the specifics, I just knew God was calling me to live for him.
Since then I drifted away and back again from God and the church. I know the promise he has for me, and even if I do stumble he is always there to pick me up. I am a living and learning every day. I have an amazing, Christian husband and together we have decided that in our home we will worship the Lord!
Some things about me:
What I love about what I do: There is not one specific thing that I love the most but can honestly say is that I truly love my job and ALL the people I work with and for. I am a huge people person and enjoy talking and meeting all the time.
Favorites: Italian is my favorite food for sure (spaghetti, lasagna, baked ziti), for my favorite TV shows to watch it would have to be anything reality. I am a reality TV junkie, I don't have a favorite band really I don't mind any kind of music really (except what my daughter listen to), and there is no way I can chose a favorite hymn…I can't get enough of any hymns they all seem to speak to me in different ways but Amazing Grace (sang the old or new way) is pretty high on the favorite list.
Pet Peeve: If I'm going to be totally honest my biggest pet peeve is being able to hear or see someone chew their food/ice/gum with their mouth open.
Hobbies: my favorite hobby is spending time with my big family….but I do also enjoy softball, baseball, basketball, wrestling and mostly football, GO IRISH!!
Sports Teams: Football-Miami Dolphins have been a favorite for me for years but also like the Colts and Bears as well, then for College it ND for everything. Sorry Pastor Andy!!