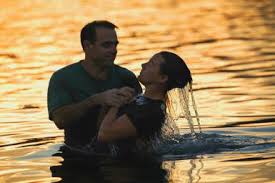 Simply put, undergoing baptism is something a person does to indicate that he or she is a follower of Jesus Christ—dying to their former way of life, with all its sin and selfishness, and being raised up again into a new life with Christ.
If you are a follower of Jesus but have never been baptized, this is a great opportunity for you to publicly proclaim your life in Christ.
Whether you are sure you are ready to be baptized now or simply want to learn more about it, you are invited to join us on Sunday, April 26th immediately following the morning worship hour in Pastor Andy's office.
Parents if this is something you think your child is interested in doing as well please let Pastor Brenda know as well. She will be happy to do a class with your child as well so they can participate in the baptism service as well.
The baptism service will take place the following Sunday, May 3rd. Anyone who wishes to be baptized must go through the class. You'll be glad you did!